Foundation
in Law
Brickfields Asia College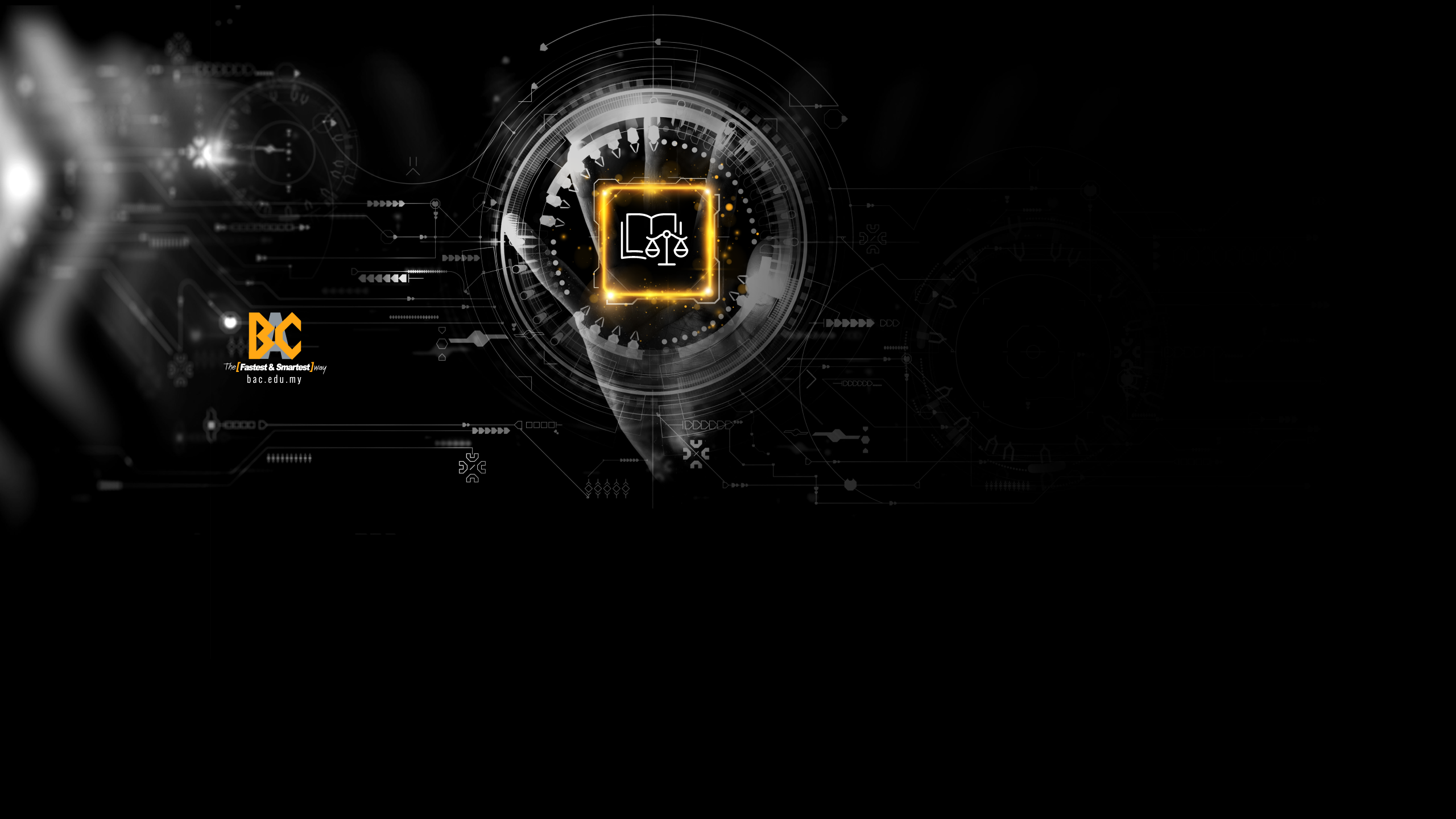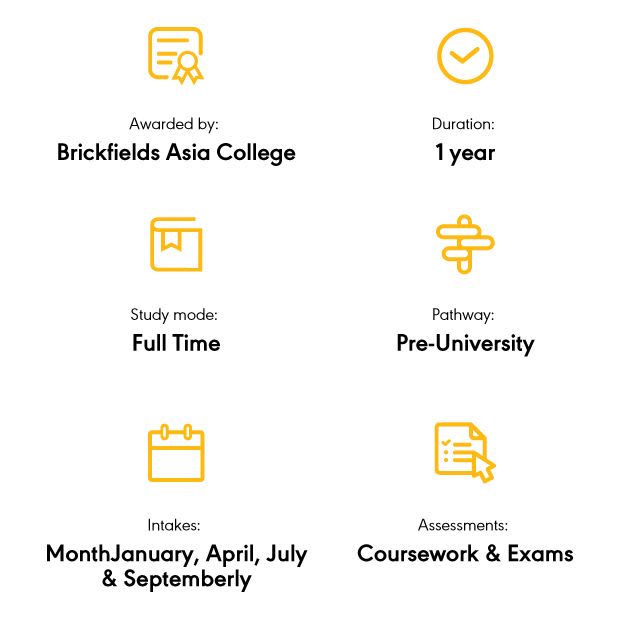 Course Overview
The Foundation in Law (FIL) is a comprehensive programme designed to provide you with the knowledge and skills needed to pursue a degree in law or its related fields. This course gives you a solid grounding in core legal subjects such as Criminal Law, Law of Contract, Tort Law and the English Legal System, whilst developing the skills to help you succeed in almost any undergraduate degree.
Upon successful completion of this course, you can choose to pursue a wide range of undergraduate programmes in social sciences and humanities such as law, business, management, accounting, finance, economics, marketing, mass communications, public relations and many more.
Learning Outcomes
Develop key legal skills such as statutory interpretation and case reading
Enhance your problem solving and oral skills
Gain highly-valued competencies in legal research and writing
Progress onto a qualifying law degree in Malaysia or the UK
About Brickfields Asia College
As the Nation's #1 Law School, BAC's Foundation in Law programme is designed specially for the UK Transfer Degree Programme (Law) and the University of London law degree. It is also accepted by a wide range of universities in the UK and Malaysia.
The BAC Foundation in Law is fully accredited and recognised by world-class universities in the UK, such as:
Cardiff University
University of Essex
University Leicester
University of Liverpool
Nottingham Trent University
Northumbria University
Oxford Brookes University
Queen's University, Belfast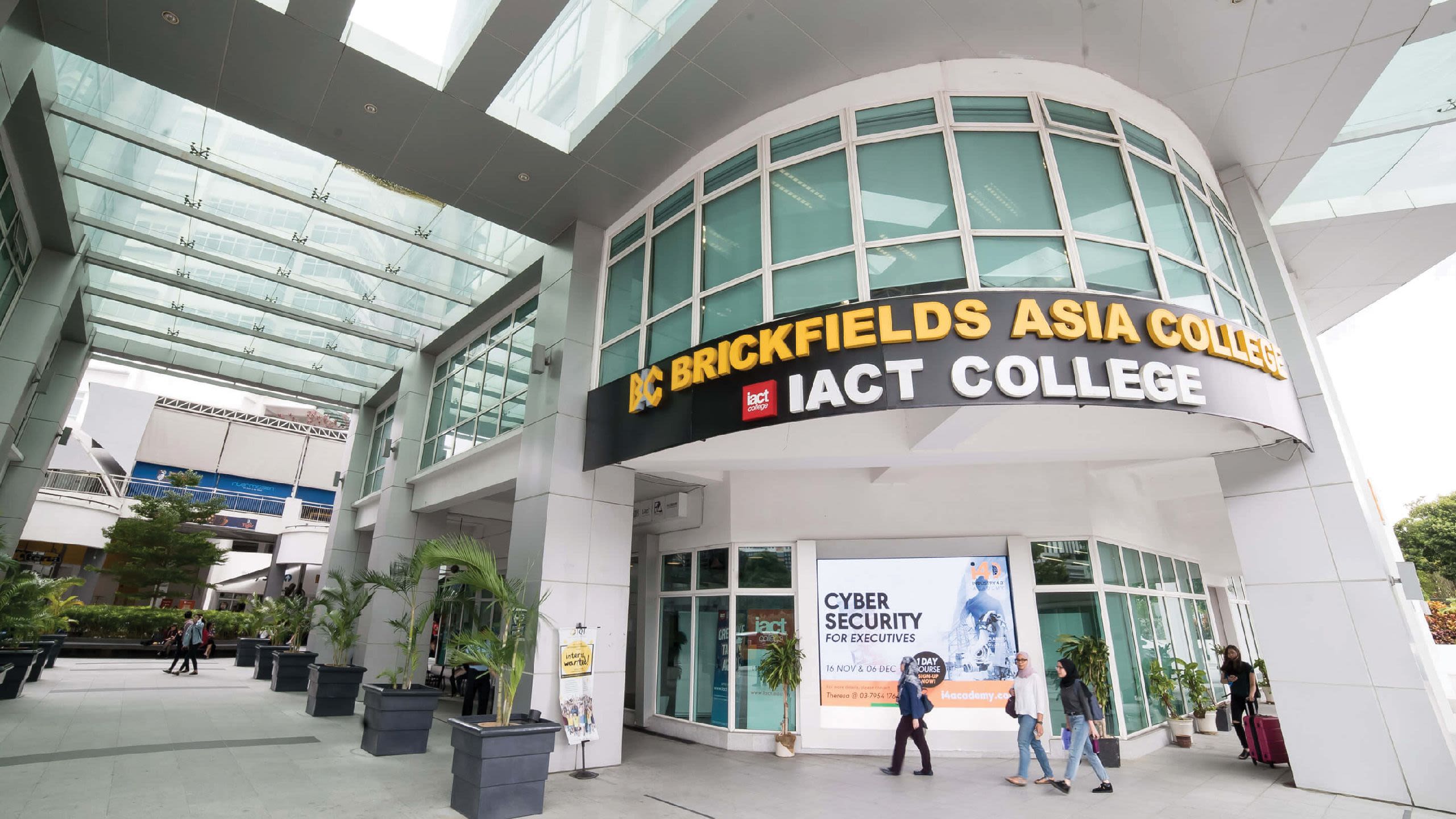 5 C's in SPM or IGCSE or equivalent; OR
3 B's in UEC (including a Pass in English)
* Trial Examination /Forecast results are accepted.

Hello there, welcome to Course Advisor!
Need advice? Talk to us
COURSE MODULES
Semester 1
English 1
This module equips you with crucial listening and speaking skills in English. You will also enhance your knowledge and skills in vocabulary, pronunciation and grammar.
Study Skills
This module introduces you to the skills you need to succeed as a university student. It also teaches you the value of transferable skills for your future career.
Introduction to ICT
This module provides you with basic knowledge of computer hardware and software. You will learn how computers are integrated into an organization, discover how information is managed within organization and develop basic communication and business skills required in computing.
Introduction to English Legal Systems
This module introduces you to the structure and operation of the English legal system, in particular, its court structure, the sources of law it recognizes, the methods of legal reasoning it uses (judicial precedent and statutory interpretation), its system of judicial appointments, and the processes involved in its civil and criminal justice systems.
Presentation Skills
This module will introduce you to the art of oral presentation in public, and delivering it effectively to develop your self-confidence, speaking and thinking skills.
English 2
This module builds enhances your language proficiency through the fundamental skills of listening, speaking, reading and writing, whilst incorporating grammar and thematic vocabulary to enable you to express yourself clearly and accurately in English.
Critical Thinking Skills
This module introduces you to various critical thinking techniques and reasoning skills to help you to present your arguments convincingly, respond to situations and solve problems appropriately.
Introduction to Contract Law
This module introduces you to contractual concepts where you will learn how to apply rules as to the formation of contracts and the effect of vitiating factors on contracts as well as the remedies available. You are also encouraged to explore and understand the substantive rules of contract law.
Practical Legal Skills
This module explores various concepts advocated by renowned theorists on research and the practical use of research methodologies. You will learn what it is to be an ethical lawyer inculcating the core values of honesty, integrity, respect, and legal principles. You will learn how to draft legal documents and to appreciate how to put the theoretical aspects you acquire into practice.
Entrepreneurship
This module provides you with a glimpse into the world of entrepreneurship where you will learn the aptitudes you need to become an entrepreneur and the skills and processes necessary to initiate an enterprise.
Introduction to Criminal Law
This module introduces you to legal concepts, rules and the machinery involved in their introduction, application, and enforcement of Criminal Law. You are encouraged to explore and understand the substantive rules of law in criminal proceedings. You will learn to critically assess the value of legal rules, processes, and institutions.
Introduction to Tort Law
You will to understand the interests that Tort Law protects like personal injury, property harm and reputation. You will learn the importance of compensation in civil law particularly, Law of Tort.
Business Studies
You will learn about the activities of business organizations and how they respond to the changing demands of their environment. You will also explore how successful business organisations engage in financial and accounting practices to maximize value and to develop strategic planning and decision-making to ensure business survival, change, and sustainable success.
Recommended Courses.
Cambridge A-Level Arts
Recognised as the "Gold Standard" for university entrance examinations worldwide, our A Level Arts programme will help you progress onto undergraduate degrees in Accounting, Business, Management, Commerce, Economics, Finance, ICT, Communications, Law, Marketing and Mass Communications, among others.
Foundation in Business
The Foundation in Business (FIB) programme is a preparatory programme that facilitates your academic admission into a multitude of undergraduate disciplines in arts, humanities, and social sciences. This programme aims to provide you with an enhanced level of academic literacy, skills, and confidence to ensure a highly effective and smooth transitional process from secondary school into over 300 undergraduate programmes offered by BAC.
Cambridge A-Level Science
This programme is one of the most recognised Pre-University qualifications in the world. Recognised as the "Gold Standard" for university entrance examinations worldwide, this course will help you progress onto undergraduate degrees in Medicine, Dentistry, Pharmacy, Engineering, Actuarial Sciences, Aviation, Food Sciences, Forensic Science and Biomedical Sciences, among others.